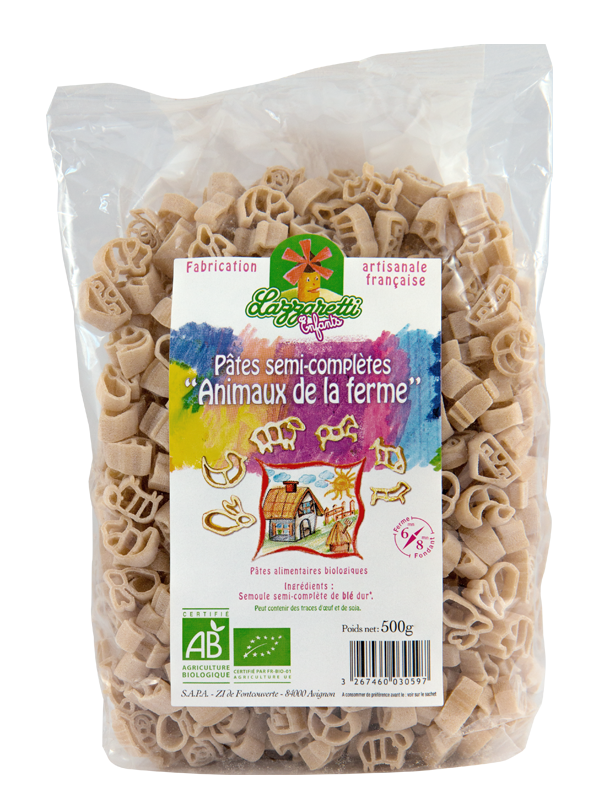 Children's pasta
Semi-wholewheat Farm Animal Pasta
Lazzaretti
Lazzaretti
6-8min
500g
| Per 100g of productv | |
| --- | --- |
| Energy | 1520 kJ - 360 kcal |
| Fat | 1,5 g |
| of which saturates | 0,2 g |
| Carbohydrate | 73,8 g |
| of which sugars | 1,5 g |
| Protein | 11,1 g |
| Fibres | 4 g |
| Salt | 0 g |
Small farm-animal shapes are a great start to pasta! As children eat, they have fun identifying the animal! A mix of discovery and healthy eating, provided by the organic semi-wholegrain durum-wheat semolina.
Focus on business know-how :
This pasta is dried the old-fashioned way using a slow, low-temperature method.
Tips and tricks :
Serve on their own, in a bake, a drizzle of olive oil or grated hard cheese.
Cook for 6-8 min in salted boiling water.
Ingredients :
Organic durum semi-wholewheat semolina
Allergens :
Contains gluten.
Possible traces of egg and soya.