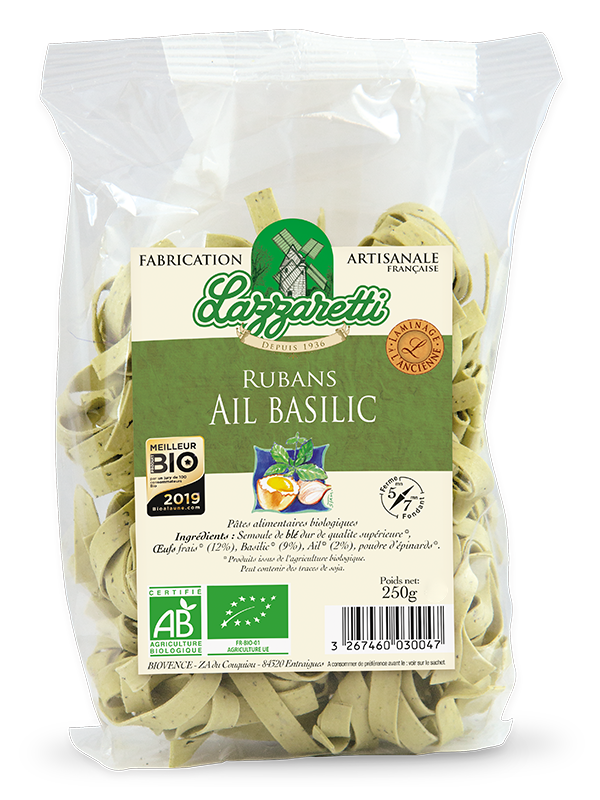 Flavoured pasta
Basil & Garlic Ribbons
Lazzaretti
Lazzaretti
5-7min
Best organic product 2019
250g
| Per 100g of product | |
| --- | --- |
| Energy | 1516 kJ - 362kcal |
| Fat | 2,4 g |
| of which saturates | 0,5 g |
| Carbohydrate | 69,9g |
| of which sugars | 1,9 g |
| Protein | 14 g |
| Fibre | 4,1 g |
| Salt | 0,02 g |
At Lazzaretti, we take an age-old approach to making our excellent organic tagliatelle: we mix durum-wheat semolina with water. Then we add eggs, chopped basil, garlic and aromatics… Then all of the Master Pasta Craftsman's know-how comes into play. He determines the right amount of water, depending on the semolina and added ingredients, the heat, the humidity of the facility and weather… He then waits until the correct texture is achieved before continuing to the next stage. The dough is then rolled several times between two rollers (like your kitchen rolling pin!). It is then cut into strips – 5mm wide for our regular tagliatelle, and 8mm for our extra-wide ""ribbon"" tagliatelle – and left to dry never at more than 45°C and for up to 16 hours.
This precision and slowness respect the food, and maintain a microbiology that transforms the dough, brings it to life and gives it its nutritional properties.
It is very similar to home-made fresh pasta.
Taste it – Lazzaretti tagliatelle is mouth-wateringly good.
Focus on business know-how :
This pasta (cut 3mm wider than our regular tagliatelle) is rolled the old-fashioned way, cold-kneaded like fresh pasta, then cut into strips by a knife.
Tips and tricks :
Dear gastronomes, our tagliatelle will let you fully express your creativity!
Pour into boiling water for 5 minutes and you're done!
Cook for 5-7 min in salted boiling water.
Ingredients :
Organic superior-quality durum-wheat semolina
Allergens :
Contient du glutenTraces possibles de soja