Last but certainly not least: drying the pasta.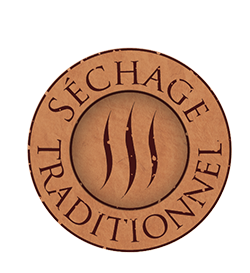 Unlike intensive industrial practices, with pasta dried continuously at nearly 90°C, we prefer a traditional method that takes longer and is more natural.
We dry our pasta at a temperature no higher than 45°C, and for 12-18 hours depending on the shape. While drying slowly at low temperature, the pasta is said to "rest".
This stage is a key factor in determining the nutritional and organoleptic qualities of the final product. It enables us to protect the many nutritional qualities in the cereals but also to make the pasta silkier once cooked.
Did you know?
All the pasta we make is slowly dried at low temperature.
Why is traditional drying important?
In the old days in Italy, and at the Lazzaretti family home, artisanally prepared pasta was dried outside in the open air.
It was hot in southern Italy, and in Avignon too: temperatures reached 38°C, which suited the product perfectly! Once again, Mother Nature did things right!
Today, we dry our pasta traditionally for 12-18 hours.
It is no longer dried outside in the street, of course. It is protected in our own clean and healthy facility, but is still placed on frames – like spinning looms!
The pasta must dry slowly, or it turns yellow – which isn't the colour of the cereal, or due to the quality of the durum wheat.
High-temperature drying would irreversibly change the pasta, and the beta carotene would turn orange!
In addition, the pasta would change in appearance and consistency, becoming more elastic. The chemical structure of the wheat would change – not to mention the pasta itself, which would lose its flavour!
The art of the master pasta craftsman is to oversee this alchemy, the quality of the ingredients, the recipe, and the precision of the cooking.
Did you know?
Slow drying means the cereals' nutritional and organoleptic qualities are conserved.
Here at Lazzaretti, we make pasta of true quality, which requires extreme conscientiousness and a desire to reflect our traditional heritage with a temperature of 45°C.
Spaghetti, elbows, penne rigate, spirals.